Transport authorities and local councils can empower people — residents, tourists, or business visitors — to discover, confidently navigate, and travel around their cities using different modes of transport. With the help of Mobility-as-a-Service (MaaS) apps, reaching these goals is easy, as they highlight available transport options and provide accurate journey planning. These features have made MaaS apps a critical part of building trust in transport and drumming up the public support (and funding!) required to keep people moving around efficiently.
Citymapper has long been a passenger-favourite MaaS app. But beyond its ability to support passengers' varying travel needs, it provides transport authorities and local councils with invaluable tools as they work to strengthen their own communities and transit networks. Its presence in a city strengthens transport in three core ways: Citymapper has proven experience helping new passengers discover and plan multimodal journeys, it provides a channel for 2-way communication with passengers at scale, and it allows cities to analyse multimodal patronage data in order to make better city and service decisions.
Establish and grow a local user base.
A MaaS app can only introduce passengers to new transport modes if it has the power to both attract users to download the app and encourage regular usage. Citymapper has done this successfully around the globe. For example in Paris, after seeing enormous growth in 2014 right after launch, Citymapper continued to grow its user base at an average of 55% per year for the next 5 years — to this day, passengers in Paris plan an average of 3+ journeys a day using Citymapper. Why? For starters, they get accurate, personalised journeys every time they open the app. Beyond that, Citymapper includes features (like topical, time-sensitive notifications) that encourage passengers to continually return to the app. For example, during a recent bout of hot temperatures throughout the UK, Citymapper nudged passengers to consider "Heatsafe" routes that helped them avoid long walks and find air-conditioned transport options. Localised guidance like this keeps Citymapper top of mind for passengers.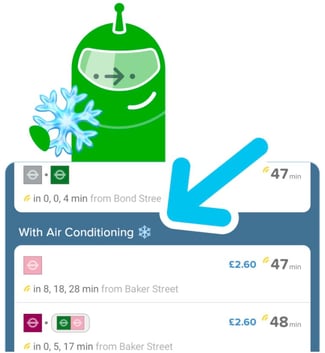 The extra steps Citymapper takes to keep the app relevant, informative, and user-friendly have helped grow a loyal user-base that is more likely to plan their journeys using public transport, whether fixed-route, demand-responsive transport, or micromobility options like cycles or scooters.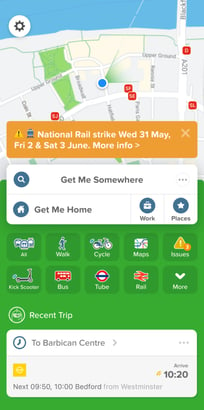 Build passenger trust.
Citymapper also provides new ways to build passenger relationships at scale. Whether local authorities want to keep passengers informed about service disruptions or give a real-time, geo-located warning about increased demand during peak times, built-in tools allow cities to communicate directly with their passengers. And because building trust isn't a one-way street, it also allows authorities to host surveys and collect passenger feedback. More transparency and information build passenger confidence and usage of available transport — in fact, passengers say that knowing when their bus is meant to arrive and having it reliably arrive on time are the top two most important factors affecting their decision to ride transit.
Harness data for better city and service planning.
Demand and travel data that incorporate insights from all modes of transport is critical for long term city planning and transport network optimisation. For example, being able to predict the number of passengers who will use a given transport stop can help plan for infrastructure and personnel needs to ensure public safety, cleanliness, and a positive passenger experience. It might also suggest opportunities to consolidate or add additional stops to better accommodate passengers. As travel options diversify, it becomes increasingly difficult for cities and agencies to gather and synthesise insights from disparate data sources. That's where Citymapper comes in. Citymapper gathers and analyses aggregated, anonymous passenger travel choices to provide data insights to cities on where and how riders are getting around.
Cities can use this information — for example, demand patterns, service quality, bus speeds, route-by-route occupancy levels – to make smarter decisions about their transportation and street design in the future. Agencies too, can use this data to understand how to optimise and grow their services.