In a climate of limited funding and resources, cities and transit agencies nationwide are looking for creative approaches to stretch existing dollars. In recent years, many major cities in the U.S. and their suburban communities have been using a surprising trick to improve first- and last-mile connectivity, without the need for costly changes to existing fixed-line infrastructure: adding an on-demand transit service.
Want to back up and learn more about on-demand microtransit? Click here
Want to dig deeper and learn how microtransit gets people to jobs? Click here
A 2023 survey of Via-powered microtransit services in 14 cities across the US reveals that demand-responsive microtransit significantly increases the connectivity of the whole mobility system, enabling people to access public transportation more easily. Among the 1,600 microtransit riders surveyed, 31% reported using the service as a means to connect to other forms of public transportation. Strikingly, in cities such as Seattle, St. Louis, and Miami, this percentage soars to over 50%.
Up to 71% of microtransit riders in Seattle say they use the service to connect to other public transit options.
"Without microtransit, I would be stranded," said one car-free rider in Arlington, Texas. The service has become a lifeline for him, providing convenient first- and last-mile connections to the major transit hubs for trains and a direct bus to the local airport.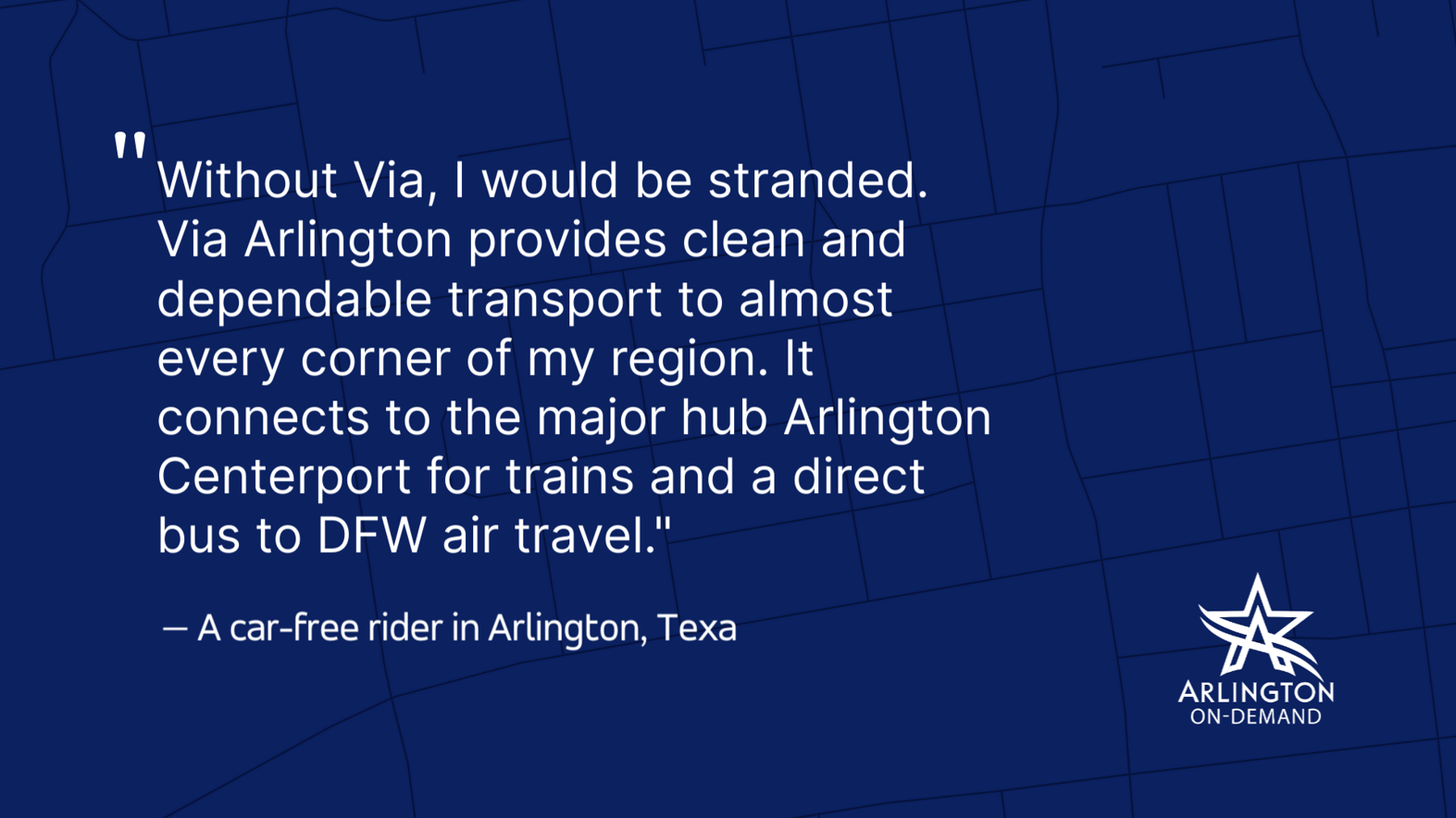 We've seen similar responses across other surveyed cities. A rider living in a transit desert in Denton County, Texas, says that GoZone, an on-demand microtransit service, is "the only source of transportation to get to and from the train station" in his local community.
Even for riders with access to cars, having convenient public transit available made it easier to leave them at home. According to Via's survey, 37% of microtransit riders said they would have instead driven a single-occupancy vehicle if the service was not available.
Reduced usage of private cars helps lower carbon emissions and even eases road congestion, which benefits all — even those who are not on board. In the past year, our data scientists have modeled that Via-powered services reduced emissions by 40% and cut congestion by 49% in the US, all by offering an alternative to emissions-heavy private car trips.
Interested in incorporating on-demand microtransit to your mass network? We'd love to talk!