In our
"
Electrifying Microtransit and Paratransit
"
content series, get to know Via's capabilities to power EV public transit programs all over the globe.
Team Via believes that the future of public transit will be electric, and we're proud to help partners electrify their microtransit services (or launch brand new ones!). However, we acknowledge the transition can sometimes feel overwhelming and complicated – that's why in our "
Electrifying Microtransit and Paratransit
"
content series, our team of data scientists and operational experts will show you how to confidently plan your EV transition.
Check out
Via's Electrifier
— our proprietary simulation tool that analyzes how microtransit and paratransit services will be uniquely affected by the transition to electric vehicles. It also provides agencies with fleet, operational, and infrastructure suggestions. Using simulation results, we're able to guide our partners through each of the core considerations of electrifying a fleet, and then estimate the environmental benefits that come along with it.
The
Electrifier
helps you understand the following elements of launching or converting a conventional fuel-powered service:
Evaluate fleet options

Optimize fleet planning

Design charging infrastructure

Predict the environmental impact
1. Evaluate fleet options.
With so many all-electric vehicle options in the market, it can be daunting to find the right one that fits your community's needs, but it's worth the effort to evaluate different types of vehicles before investing.
Key questions we'll help you answer with Via's
Electrifier
:
What types of EVs should be used?
What is the passenger capacity of EVs that meet your community's travel needs?
What are the battery range and sizes for your desired vehicle option?
How many EVs are needed to meet demand?
The
Electrifier
will assess which vehicles will most effectively meet the needs of your riders and your service, whether that's a focus on long-distance driving in largely rural areas or frequent first- and last-mile trips in urban contexts.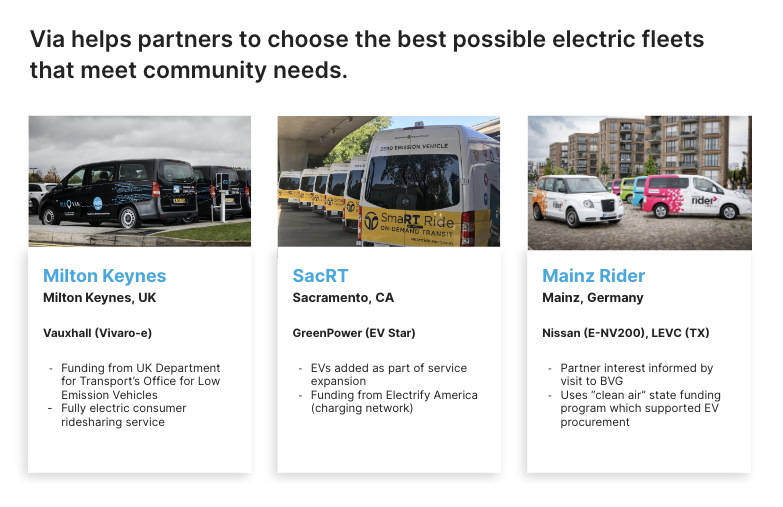 By integrating actual ridership data into the prediction model, Via's
Electrifier
can test different vehicle types to find the best fit and suggest the ideal number of EVs required to meet demand.
2. Optimize fleet planning.
So you've found the right vehicle and decided to switch your entire fleet (or part of it) to that car model. Sounds easy, right? But electrification includes additional factors, including integrating charging time into the process.
Here are some operational questions that may arise when managing a public EV fleet:
How can charging shifts be optimized? Ensuring that vehicles are available during peak usage periods is key.
What does the state of charge for each vehicle look like?
Where should vehicles be scheduled to recharge?
By inputting specific charging details to
Via's
Electrifier
— such as the number of charging plugs, charging speed, and break time for charging — we can build efficient charging time into the schedule for each vehicle and driver, so that each vehicle has sufficient downtime for a full charge on the required service days while operating at maximum capacity.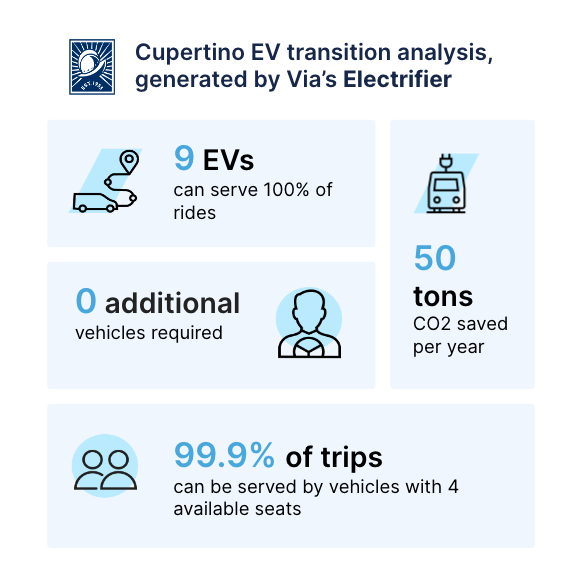 Using these simulated results, we can reassign shifts to maximize EV ability to ensure an equal or better quality of service for conventional microtransit and paratransit trips.
3. Design charging infrastructure.
One of the first — and potentially most costly and logistically complicated — steps to electrifying your fleet is installing sufficient charging infrastructure. It can be tricky to accurately predict the number of chargers required, but this is critical to ensuring the success of your service.
The
Electrifier
uses data from your service and unique geography to simulate travel patterns and power usage in your future microtransit service. These simulations identify the number of chargers required, suggest optimal locations for each charger, and provide recommendations for how to best plan driver shifts around charging needs.
Key questions we'll help you answer:
What type and quantity of chargers are required?
Where should the charging stations be placed?
How can you best leverage existing charging stations (reducing the need for new installations)?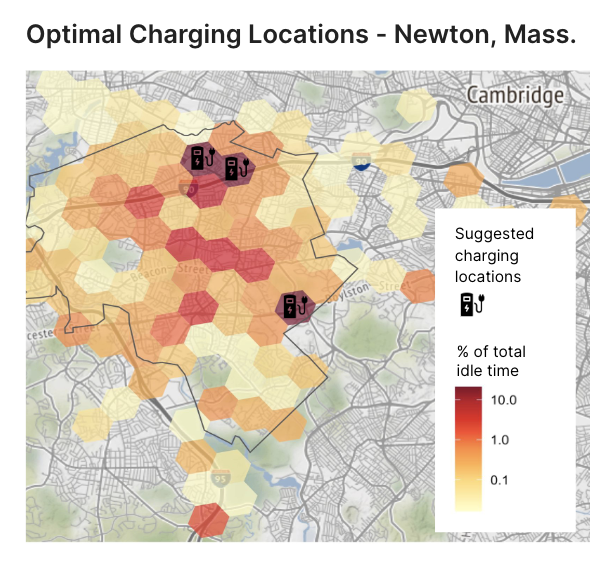 Electrifier
identifies optimal locations for charging infrastructure, based on vehicle idle time that occurs at or near the parking lot, and typical travel patterns.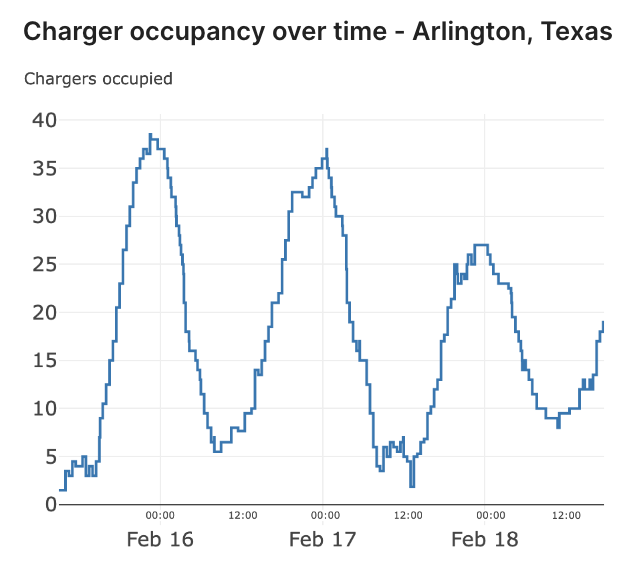 Informing an optimal number of chargers based on anticipated use in a given time date range. This shows that deployment can actually be served by ~40 charger stations.
4. Predict environmental impact.
By knowing the exact environmental gains brought by electrification, you can use that data for public engagement and promote EV initiatives in funding applications. We'll help you answer a few key questions such as:
How can you predict the exact impact of EV transition, even before the actual launch?
What are the saved emissions or the equivalence of the number of cars taken off the road, after a full transition?
By comparing simulated carbon emissions of EVs with the actual emission of traditional combustion engine vehicles, city officials or transit agencies can determine the right scale of EV deployment to achieve their decarbonization goals and comply with environmental regulations.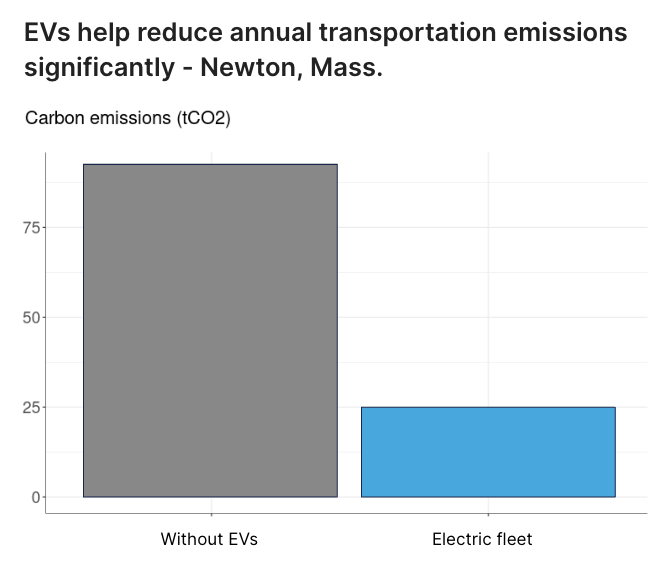 Carbon emissions would be reduced from ~93 tons to ~25 tons. Our prediction model takes into account the carbon intensity of the local grid, and the
Electrifier
can accurately determine CO2 reduction.
Charging into the future, faster.
Using Via's
Electrifier
, assessing the potential success of an EV transit project is just a few clicks away. We've run this simulation analysis for partners across the U.S., helping build a greener future with cleaner mobility options.
After examining the various scenarios and parameters generated by Via's
Electrifier
, partners like the City of Cupertino, Calif., and Newton, Mass., were able to gain confidence in moving to EVs. In 2022, Cupertino was awarded
an $8.5 million grant
to expand and electrify Via Cupertino — an on-demand microtransit service, with the goal of providing residents with cleaner, highly-efficient transportation options and reducing traffic congestion and emissions in the region.
Let us show you how EV-enabled microtransit or paratransit can positively impact your service and the surrounding community. We'd love to help! Contact our partnerships team at
partnerships@ridewithvia.com
and get started on a cleaner future.