Meet ViaAlgo, the brain behind Via's 500 worldwide deployments. In our ViaAlgo Features Series, get to know her expertise, honed by delivering millions of rides all over the globe.
If you work in paratransit, you've probably heard the term "commingling." We've written a lot about how paratransit providers can increase their overall service efficiency by using the same fleet to deliver both microtransit and paratransit trips. One of our partners has even added NEMT to the mix, offering three services with the same fleet, software, and team of dispatchers — and saw a 60% increase in productivity, or the number of passengers transported per vehicle revenue hour.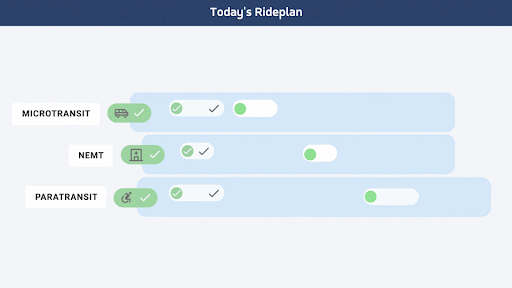 How does ViaAlgo do it? And more importantly — how does she do it
while keeping paratransit trips ADA-compliant?
Many "commingled" services do not actually combine microtransit with ADA-compliant paratransit: it is more common to combine microtransit with a non-ADA "dial-a-ride" or senior transportation service. That's because it's quite difficult for most transit software to guarantee a pre-booked pickup — required for ADA compliance —
and
add microtransit trips to the schedule as requests come in on-demand.
But ViaAlgo's Aggregator — our tool that determines whether a new trip can be added to a vehicle during live service — is powerful enough to decide whether to add a newly-requested microtransit ride to a vehicle that is already delivering a pre-booked paratransit trip, while also ensuring ADA compliance.
Here's what's happening behind the scenes:
Joe, a driver for an ADA-compliant commingled service, has paratransit rider Lisa already onboard when microtransit rider Manuel requests a new trip. ViaAlgo now has a question to answer: should she assign Manuel's trip to a vehicle with a rider already on board, like Joe's, or dispatch an empty vehicle to go pick him up?
If Manuel's pickup address is nowhere near Joe's current location, and his destination address is not en route to Lisa's, the Aggregator will quickly eliminate Joe's vehicle and move onto others. But if Manuel's pickup
looks
nearby, the Aggregator will ask additional questions to determine whether the benefit of adding Manuel to Joe's vehicle — increased vehicle productivity — outweigh the risks of increasing both riders' time onboard or making them late.
ViaAlgo asks:
How much time will be added to Lisa's trip by deviating to pick up Manuel, and is this deviation within the limits set by the agency?

How long will Lisa's estimated drop-off time be delayed, and will adding Manuel's trip push her outside her communicated drop-off window?

Will adding Manuel's trip delay the pickup of Joe's next paratransit rider?

Does the route required to keep Lisa's trip ADA-compliant mean that Manuel's trip will be excessively long or circuitous?
All of this is calculated within seconds — and soon the Aggregator has its answer: Yes, bring Manuel onboard! Immediately, the decision is reflected in many places:
Joe will immediately receive a Driver App update directing him to his new pickup

Lisa will see the route and ETA adjust in her Rider App

Manuel will get Joe's vehicle information and ETA in his Rider App

Dispatchers will be able to view in the Ride Plan that Joe has a new addition to his manifest
Lisa and Manuel will arrive on time, Joe can move onto his next ride, and dispatchers can keep working on service issues that actually require their intervention.