Palo Alto's new on-demand transit service sees strong ridership after just one month
PALO ALTO, CA (April 27, 2023) — The City of Palo Alto is proud to announce that its new on-demand public transit service, Palo Alto Link, has served more than 4,000 shared rides to the community since launching just one month ago.
The goal of Palo Alto Link is to expand access to easy, affordable, and eco-friendly mobility in the city by allowing community members to book on-demand shared rides through the Palo Alto Link app (available in App Store and Google Play) or by calling 650-505-5772.
Palo Alto Link provides a new way for residents, visitors, and workers in Palo Alto to travel to work, errands, transit hubs, and more without needing to rely on a private vehicle. A majority of trips connect to and from essential destinations, including transit centers, grocery stores, local employers such as Tesla, schools, and community resources. The map below illustrates the density of pick-up and drop-off locations within the service area.
The service unlocks a new sustainable form of mobility to complement Palo Alto's existing mobility options. For example, commuters can use Palo Alto Link to connect to Caltrain if they live beyond walking distance of the station or can rely on the service if needing an occasional alternative to bicycling.
The service is powered by intelligent software from Via, the global leader in TransitTech, to match riders headed in the same direction into one vehicle and direct them to "virtual bus stops" within a short walking distance to minimize detours for others. This dynamic "corner to corner" model, combined with the service's mixed fleet of hybrids and Teslas, work together to maximize efficiency and foster sustainable travel.
For seniors and disabled riders, "curb to curb" (address to address) rides are available by self attesting within the app (choose the menu item labeled "Discounted Fare" and toggle on the appropriate designation) or by calling 650-505-5772: request "address to address" routing for seniors or disabled with the booking agent.
New figures underscore how Palo Alto Link has performed in its first month:
Average ride rating of 4.8 out of 5 stars
Average wait times are under 15 minutes
Moving an average of 16.3 passengers per hour
Nearly 1,000 active riders in the community
How to ride
1. Create an account.
Download the Palo Alto Link app from the App Store or Google Play Store and follow the simple signup steps. Alternatively, call (650) 505-5772 to get setup.
2. Book a ride.
Provide your pickup and dropoff addresses. Choose the ride that works for you by tapping Book This Ride. Be sure to tap the wheelchair icon if you need a wheelchair accessible vehicle.
3. Meet your driver.
Check the app to find where to meet the vehicle at your "virtual bus stop," which may be a short walk from the address you gave us.
Palo Alto Link underscores the city's reputation as a global hub for technology and innovation. Palo Alto Link is supported by a selective Santa Clara Valley Transportation Authority (VTA) grant program that is designed to expand efficient and accessible public mobility services, among other infrastructure initiatives.
The service operates Monday - Friday from 8 a.m. – 6 p.m. Regular Fare rides are $3.50 each. Additional passengers can be added for $1.75 each. Discounted Fare rides (for disabled, low-income, seniors, and youth) are $1.00 each. Additional Discounted Fare riders can be added for $0.50 each.
For more information, visit cityofpaloalto.org/paloaltolink.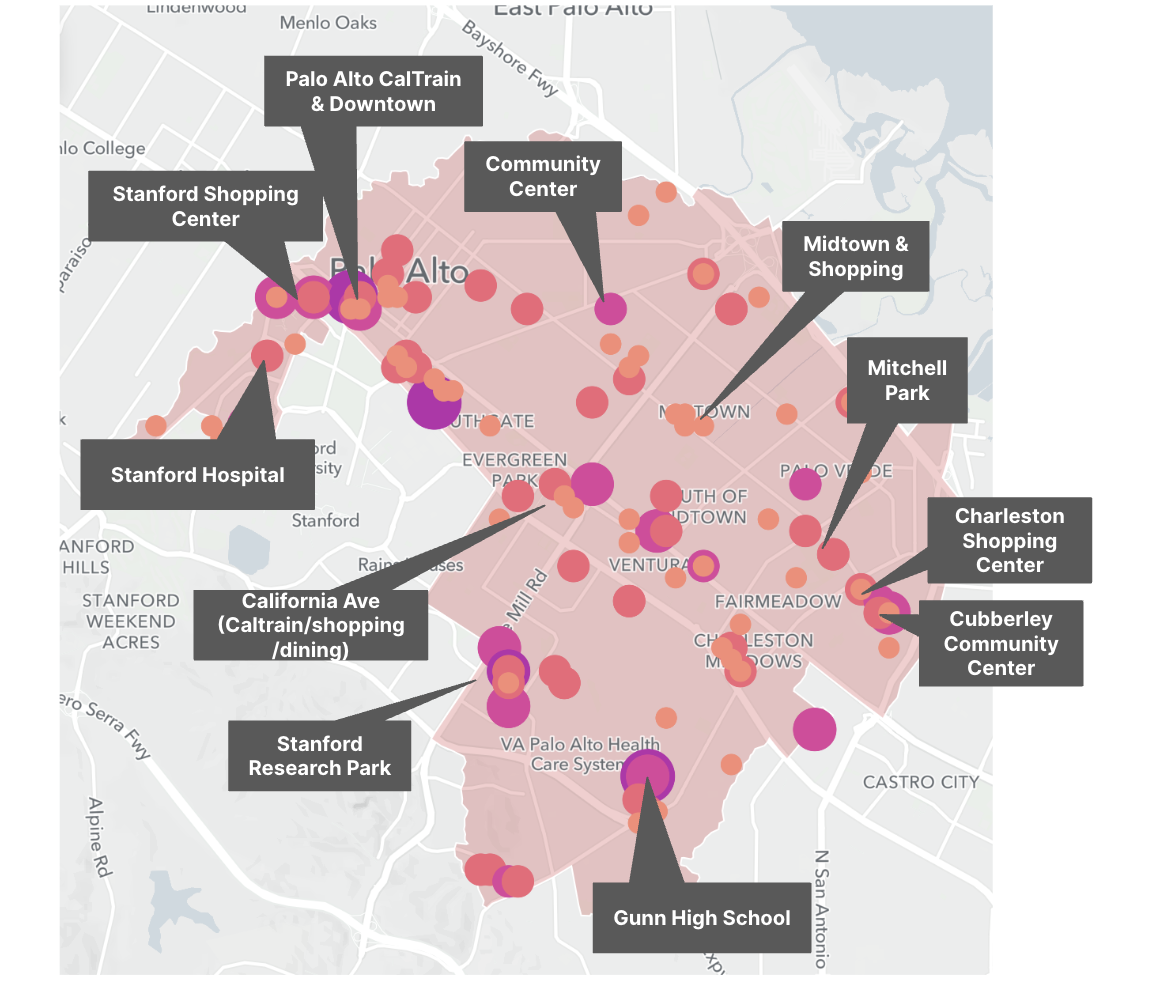 ###
About The City of Palo Alto
Palo Alto, known as the "Birthplace of Silicon Valley," is home to 69,700 residents and nearly 100,000 jobs. Unique among city organizations, the City of Palo Alto operates a full-array of services including its own gas, electric, water, sewer, refuse and storm drainage provided at very competitive rates for its customers. The City of Palo Alto offers robust community amenities including 36 parks, 39 playgrounds, five community and youth centers, 41 miles of walking/biking trails and five libraries. The City also manages a regional airport and provides fire, police and emergency services. Palo Alto is an award-winning City recognized nationally as innovative and well-managed, one of a small number of California cities with a AAA bond rating. City services and performance also receive high marks from community members in the annual citizen survey conducted by Polco (previously National Research Center).

As the global center of technology and innovation, Palo Alto is the corporate headquarters and/or research hub for many world-class companies such as VMWare, Hewlett-Packard, and Tesla. Home to Stanford University and a top-ranked public school system, Palo Alto also features beautiful and historic residential neighborhoods, vibrant shopping, and retail districts. Palo Alto has a highly educated and culturally sophisticated citizenry that is actively engaged in making a difference both locally and globally.

For more information, visit the City of Palo Alto's website at www.cityofpaloalto.org, or follow the City on Twitter, Facebook, Medium, Next Door and Instagram, by going to www.cityofpaloalto.org/connect. Sign-up for City newsletters at www.cityofpaloalto.org/newslettersignup.

About Via
Founded in 2012, Via pioneered the TransitTech category by using new technologies to develop public mobility systems — optimizing networks of buses, shuttles, wheelchair accessible vehicles, school buses, autonomous vehicles, and electric vehicles around the globe. Building the world's most efficient, equitable, and sustainable transportation network for all riders — including those with limited mobility, those without smartphones, and unbanked populations — Via works with its partners to lower the costs of public transit while providing transportation options that rival the convenience of a personal car while reducing the environmental impact. At the intersection of transportation and technology, Via is a visionary market leader that combines software innovation with sophisticated service design and operational expertise to fundamentally improve the way the world moves, providing technology in 600 communities and more than 35 countries and counting.