Smarter paratransit that just works.
Via Paratransit combines innovative, best-in-class software with operational knowledge — providing a lower cost and higher quality way for paratransit riders to get around
Let's talk
Our global partners leverage Via Paratransit to: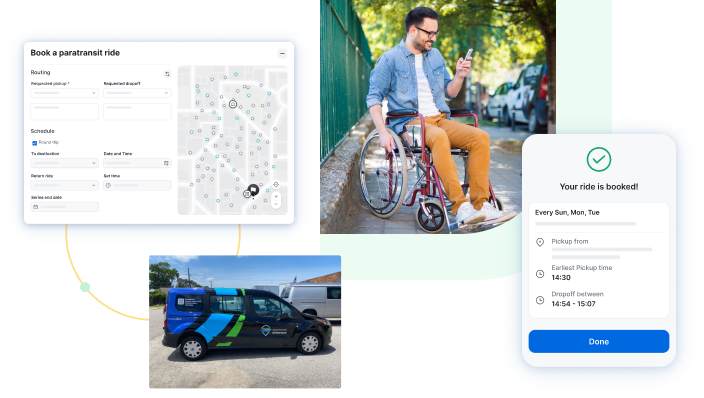 Expand access to public transit.
No matter what transportation looks like in your community, Via Microtransit can be integrated easily and help connect people to jobs, schools, transportation hubs, and so much more.
Increase efficiency.
Ensure your vehicles are running at optimal capacity with our real-time supply and demand data, which empowers you to make smarter operational decisions and better allocate driver hours and vehicle fleets.
Reduce environmental impact.
Microtransit can be used with all types of vehicles — including electric and hybrid — and our automated aggregation encourages riders to share vehicles, so you can help cut down on road congestion and greenhouse gas emissions.
"First software developer for paratransit who instills a sense of integrity and pride in their product. Not willing to compromise if it compromises the principles of the product they are developing. It is refreshing."
CATS Paratransit Senior Manager — CATS Paratransit Senior Manager
How to serve more riders with your existing fleet.
It doesn't stop there.
Our software is modular — the tech is powerful on its own, but it can also be combined with any number of additional services, depending on your goals.
Wheelchair Accessible Vehicle training for operators.

Sourcing fleet operators.

Commingled service options.

Pre and post-launch marketing.

Outreach to community.

A network of support for riders and drivers.
Ready to see if our paratransit solution works for you?