Increase access to care with Via for Health.
Whether you're connecting patients to non-emergency medical care or essential services, Via for Health makes it easier for riders to reach medical facilities and reduces missed appointments — eliminating worries about how to get there.
Let's talk
Our global partners leverage Via for Health to: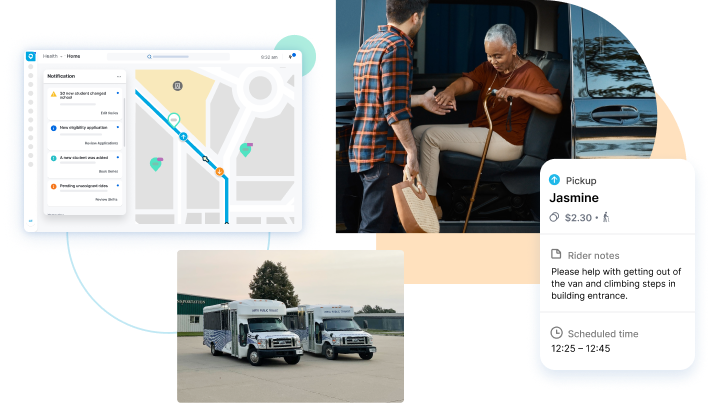 Prioritize safety.
Our software automatically assigns riders to the vehicles that have the most efficient routing and shortest wait times, so that patients can get to and from important medical appointments quickly and reliably.
Enhance patient experience.
Patients and caregivers can book rides through mobile and web apps and over the phone — and with frequent reminders and real-time ride tracking, they will have peace of mind about an on-time arrival.
Minimize administrative burden.
From real-time ETA updates to billing and reimbursements, Via for Health seamlessly integrates every aspect of your service, reducing the amount of time dispatchers have to spend on each individual ride.
"We are positive that the new [NEMT] service will increase the usage of public transportation and provide an excellent solution for people with disabilities who are seeking a better personally-adjusted service. We see it as a net positive to have the ability to run all things we're running using one software and interface on the backend."
Robert Williams — IT Supervisor with Golden Empire Transit in Bakersfield, CA
It doesn't stop there.
Our software is modular — the tech is powerful on its own, but it can also be combined with any number of additional services, depending on your unique needs.
Driver acquisition management.

Sourcing fleet operators.

Extended advertising opportunities.

Pre and post-launch marketing.

Outreach to community.

A network of support for riders and drivers.
Ready to start working on your own Via for Health solution?