Over the past few years we've seen Holyrood offer significant financial support to transport in the form of COVID-19 bus recovery funding but, as of March 31st, all of this Network Support Grant (NSG) Plus funding has come to a screeching halt. This meant that the overall budget for bus service support was cut by a startling 37.1%, from £99.4M to £62.5M. Meanwhile, the Scottish government has been pouring vast amounts of money into free transport for under 22's and over 60's, in a push to get Scots to ditch their cars in favour of more environmentally friendly public transport. While this is generous, the money would be better spent on ensuring the right services are still running — free tickets are irrelevant unless the right services are in place for people to use in the first place.
With the current state of affairs, operators are left to manage tight budgets coupled with a heightened inflationary environment by increasing fares and cutting underutilised routes — particularly in rural communities. This leaves local authorities, who typically subsidise these vital transport lifelines, in a difficult spot. Ideally, they would be able to pick up where the operators left off and continue services. But councils themselves face budgetary cuts. With all of these factors at play, it's easy to feel as though Scottish public transport is in a free fall. Passengers on local bus routes in Scotland are still 35.2% down since before the pandemic and surviving services continue to inadvertently exclude those on the periphery of our society: both financially and geographically.
This needn't be the case. As authorities are forced to rethink their subsidised bus services, right now there's a window of opportunity to incorporate digital demand-responsive transport (DDRT) into less populated areas of local transport networks: maintaining access to public transport services for people in areas that would otherwise be cut off from the bus network and even attracting new passengers with a compelling alternative to the private car, which can reverse the troubling downwards trends for local transport patronage that predated COVID-19. "With the number of bus journeys taken in Scotland declining by 12 percent over the past five years, we believe that DDRT services will play an important role in the future of public transport and decarbonising our roads."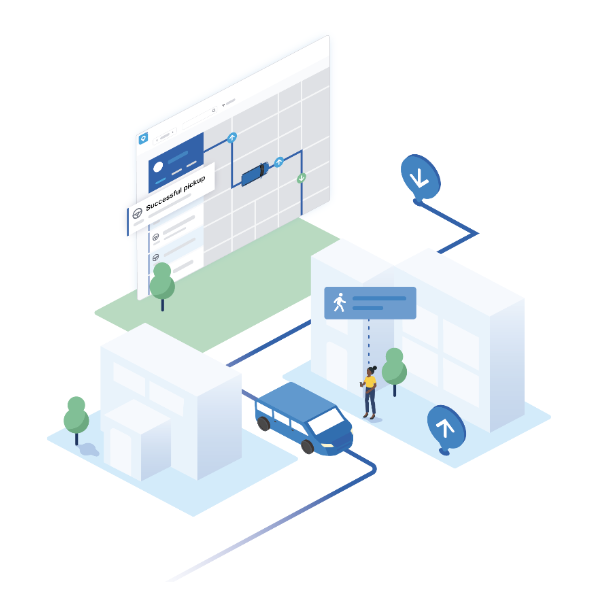 Why DDRT in Scotland?
While fixed routes form the backbone of Scottish transport, ​​it's clear that the way forward must include a move towards more efficient transport — especially in areas of low population density or where previous bus routes were underutilised. This is especially critical as transport funding reviews are underway, with figures like Scottish Greens transport spokesperson Mark Ruskell telling Scotland on Sunday , "It is right that the Scottish Government supports local services, particularly where routes are less profitable, but that must come with accountability and conditions around quality and reliability."
Across the United Kingdom and Europe, DDRT delivers high-quality, low-cost services in areas where fixed-route bus service is infrequent or financially unfeasible. As Rachael Murphy, Director for Scotland at CoMoUK, a national shared transport charity, put it , "with the number of bus journeys taken in Scotland declining by 12 per cent over the past five years, we believe that DDRT services will play an important role in the future of public transport and decarbonising our roads." DDRT can take the form of minivans or buses and relies on passenger demand — not predetermined timetables and schedules — to determine routes.
We strongly believe that DDRT can bring huge benefits in terms of both coverage and increased transport usage to Scotland. Our team has been fortunate enough to work on several rural DDRT services across the UK that have similar environments and challenges to areas in Scotland, including fflecsi: a countrywide service in Wales run in partnership with Transport for Wales, which comprises no fewer than 13 distinct zones with unique service goals, designs, and a mix of on-demand, pre-booked, and hybrid models.
We also operate DDRT services in entirely rural areas. Our 9-vehicle service in the Tees Valley, Tees Flex, serves an average of 1,500 rides every week. Moreover, our experience with DDRT has moved well beyond the pilot stage, with several services running for nearly 3 years and counting. Experts and passengers agree that this mode is not a fad, but a technology-driven, personalised way to increase transport patronage and connect passengers to fixed-routes.
One question that usually crops up at this point in DDRT conversations is: sounds amazing, but expensive. How do we secure funding for something this advanced when we're already struggling to keep buses afloat? The answer is twofold:
It isn't as expensive as you think, and the savings are much greater.

New transport funding schemes from the Scottish government are essential to long-term success.



The cost of DDRT
With intelligent implementation and the right technology, DDRT can actually result in direct cost-savings for councils and attract passengers to public transport who abandoned buses during the pandemic. By serving more passengers, demand-responsive services can improve farebox recovery while simultaneously reducing operational costs. Just look at Go2 in Sevenoaks, which enabled Go-Coach to reduce its fleet by 80%. In Milton Keynes, our MK Connect service reduced the subsidy required per journey by 40% and saved the council roughly £1m annually. And through increased adoption of a smartphone app to make bookings, our service with Lincolnshire County Council significantly decreased operating overhead costs.
The Strategic Transport Projects Review 2 specifically calls for "targeted investment" in" flexible options such as Demand Responsive Transport (DRT) and Community Transport (CT) – supported by Mobility as a Service (MaaS) and smart technology." Transport Scotland must issue this funding in order for local authorities to have the impetus and resources to bring Scottish transport into the future.
Moreover, specialised funding is not a risky bet but will almost certainly result in a proliferation of successful DRT services, as has been seen in other parts of the UK and Europe. The Rural Mobility Fund, for instance, is funding DRT in Norfolk, which covers 85 square miles and has stops in Swaffham as well as 20 villages and hamlets in the surrounding area. "I'm proud this scheme will provide a service where, sadly, there hasn't been a regular bus for many years," said Martin Wilby , Norfolk County Council's cabinet member for transport.
If bus budget cuts persist alongside zero investment in DDRT innovation, we are sure to see further reduction in routes resulting in either complete isolation for some communities or permanent reliance on private cars in Scotland. The Scottish government has set a goal of reducing car kilometres by 20% by 2030, stating "our national commitment to reduce car use deliberately includes all types of car, including electric vehicles, in recognition of the wider benefits of a society less-dominated by the movement and storage of private vehicles." Not only is this objective ambitious, but reaching it will simply be impossible if public transport continues to be first on the chopping block when budgets are strained.
Transport Scotland must put forth dedicated funding for DDRT as soon as possible. Doing so will bring passengers back to transport, ensure rural areas stay connected to the rest of the country and, ultimately, help to build a sustainable future for public transport in this country.