Imagine you take one bus every day. It stops a block away from your house and drops you just a couple of minutes' walk to work. Then, one morning, the bus doesn't come. Your transit agency has changed the service to your stop.
The situation described above is exactly what public engagement processes aim to prevent. For decades, transit agencies and MPOs across the country have relied on community meetings, stakeholder workshops, and other public forums to solicit direct feedback from local residents on service changes. They also post flyers at transit hubs and notices on websites and social media in an attempt to notify those without the time or flexibility to make it to an in-person meeting. And when the pandemic hit, transit agencies and cities reacted quickly to meet the demands of a newly virtual world, resulting in a proliferation of ways for residents to have their voices heard without needing to meet face-to-face. Yet, in spite of these inclusive processes, many transit riders are still surprised to step outside, only to find their main mode of transport is suddenly unavailable.
Remix is the only planning platform built with stakeholder engagement at its core. Features like public view, commenting, mobile commenting, and Presentation Studio facilitate open dialogue among residents and between residents and transit decision-makers.
Public view and commenting
In Remix, we've built maps specifically intended for public consumption. We call it 'public view.' With public view, planners can select salient statistics and condense the reams of information available in Remix to the most critical aspects of a plan: transit lines, stops, on-demand zones, and the hours and frequency of service. Just like agency staff, public users can interact with the map, zooming in on details and scrolling through different areas of their community. Then, if enabled, members of the public themselves can leave their comments directly on the map (think: Google Docs, for transit). Planners can then export these comments as a CSV to easily share streamlined feedback with other stakeholders.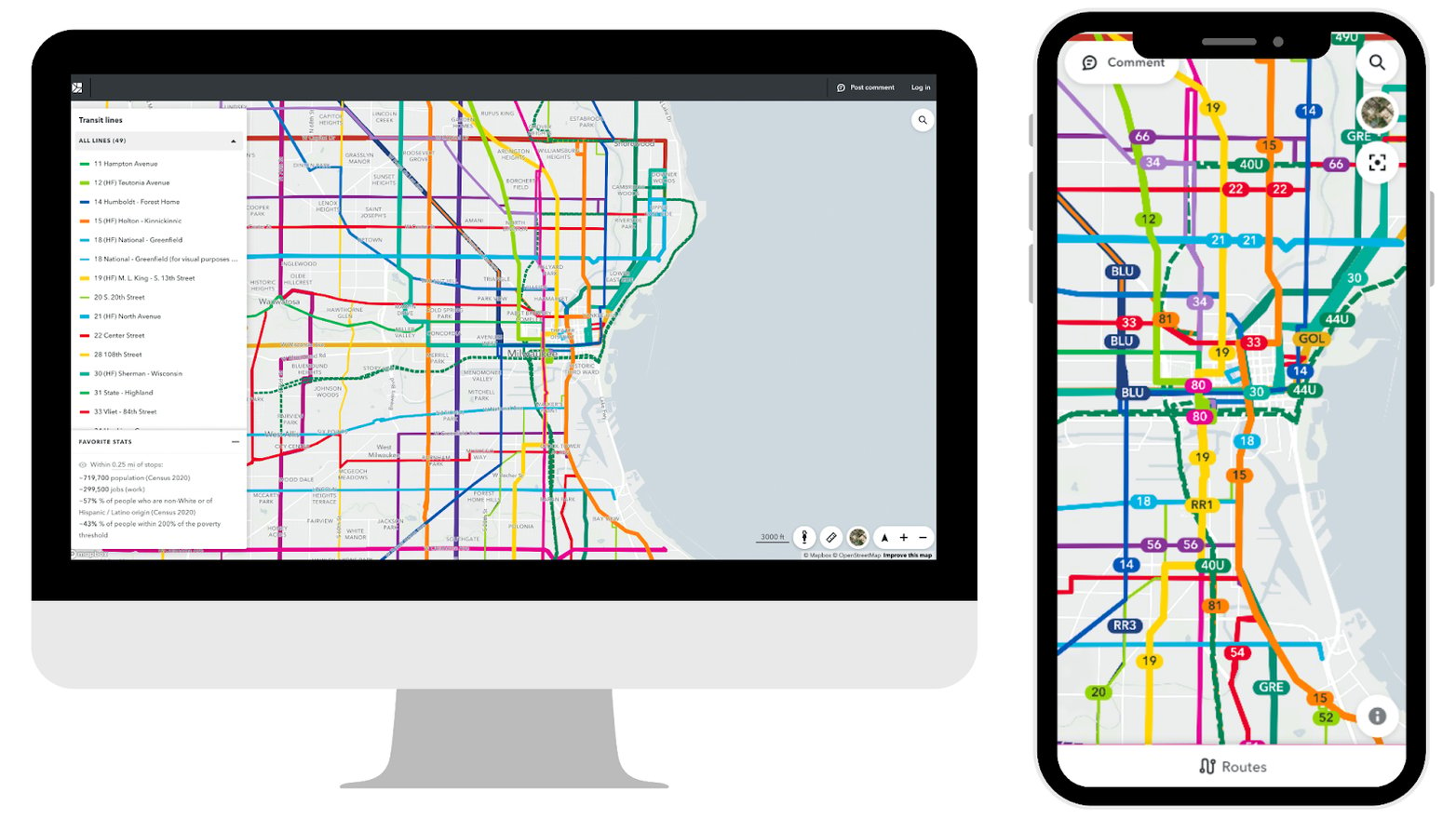 Public view displayed on desktop and mobile.
Planners can also leave annotations to call out specific aspects of a plan or ask for feedback on particular changes. Instead of one or two in-person town halls, agencies can set a public commenting period, after which they can disable public view and review all public comments before moving forward with their plans. You shouldn't need a master's degree to understand where your bus stop is moving, and you shouldn't need to take off work or find childcare to have a say on whether it moves at all. Public view transformed the planning process for the City of Aalborg in Denmark, which received more than one thousand thoughtful comments from eager residents in just a couple of months.
A time-lapse of public comments on the City of Aalborg's public Remix map.
Transportation Alternatives used Remix's public view when assembling recommendations to improve a dangerous pedestrian corridor in Brooklyn, New York. Comments like "due to double crosswalks here, cars find this intersection confusing," helped the TA team propose three strategies for reducing pedestrian fatalities at this location (check out the redesign here.)
But public view doesn't always need commenting to be effective. Bay of Plenty Regional Council in New Zealand is using public view so residents can get a better sense of proposed changes to the city of Tauranga's bus network. Public users can even leverage Remix's travel time isochrone, Jane, to understand what destinations will be reachable for them personally if the proposed changes proceed.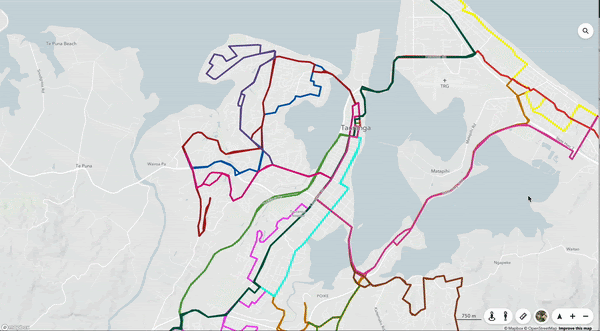 Public user using Jane on Bay of Plenty Regional Council's public Remix map
Public view on mobile
Of course, not everybody has access to a desktop computer. In fact, research from Pew suggests an inverse relationship between income level and smartphone dependence (defined as owning a smartphone, but not having broadband access at home). More than a quarter of US adults who make less than $30K a year are smartphone-dependent, while only 6% of adults making $75K+ a year qualify as such. This suggests making web applications available on mobile is essential to improving equity. So, our team built a version of public view specifically for mobile devices and recently introduced mobile commenting too. Working closely with some of America's largest transit agencies, our product managers and engineers created a streamlined, mobile-friendly version of our interactive public maps. It's designed to be easy for any rider to view the plan and share feedback — leading to better community engagement and better feedback for planners.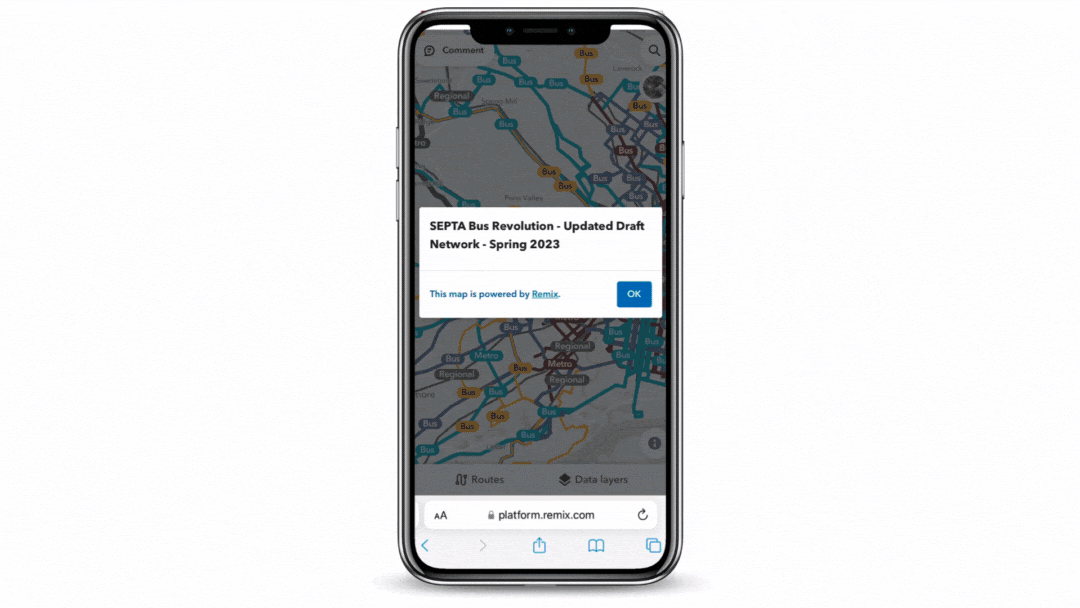 The Southeastern Pennsylvania Transportation Authority (SEPTA) used the mobile commenting feature in Remix Transit to solicit feedback on a bus network redesign project.
Presentation Studio
While public view is fantastic to collect feedback virtually, when stakeholders and agency staff are able to be in the same room, it's critical to have high-resolution plans at the ready. With Remix, getting such static visuals happens in a few clicks. Our Presentation Studio allows users to export their map to a presentation-ready, static image and edit styling to their liking. This allows presenters to adjust the level of detail shown, depending on what would be most useful for their audience. They can even add data layers and Jane to show demographics and accessibility analysis directly on your map.
And while these visuals look fantastic on the big screen, they aren't just for high-stakes meetings. In fact, Presentation Studio was a game changer when it came to creating rider guides for Skagit Transit in Washington State. According to Brad Windler, the agency's planning and outreach supervisor, "coming up with maps before…was weeks of work! To be able to produce a map that has the street grid and our routing on it was a tremendous savings in both time and money." That's 40 staff hours per project, to be exact.
Bringing more voices to the table
Virtual and in-person hearings are valuable ways to collect feedback, but shut out those who can't attend a live meeting. Meanwhile, flyers at transit stops can capture a broader audience, but tend to only work for one-way communication: not many transit riders are willing to carefully review a physical map and send an email with their thoughts in the middle of their commute.
With Remix, agency staff can download a QR code and add it to their print flyers, enabling riders to easily scan and access an interactive map on their smartphone and leave comments on the go. Resources like Remix's public view are an essential addition to an agency's community engagement toolkit and features like Presentation Studio instantly enhance any communications strategy. If your team wants to dive deeper into Remix's public engagement tools, reach out to partnerships@ridewithvia.com to learn more.