One year ago, four black Mercedes-Benz Sprinter vans with multi-colored swooshes all over them hit the streets in Buckhead. These vans had a mission as unique as their paint jobs – to make it easier for people to travel short distances in Buckhead without a car. Commuters who travel to Buckhead by MARTA train, for example, need a quick, reliable way to get from the station to their workplaces. So do people who want to make a quick shopping trip or try out a new restaurant on their lunch hours without the hassle of fighting traffic and searching for parking. Enter
the Buc
, the first on-demand, app-based microtransit service in a major Atlanta business district. The Buc offers the sustainability and affordability of transit with the convenience and flexibility of a ride-hailing service. Using the Buc app, riders can book an on-demand, shared ride to any destination within the service zone. Rides to and from Buckhead's two MARTA train stations are free and other trips are just $3 each.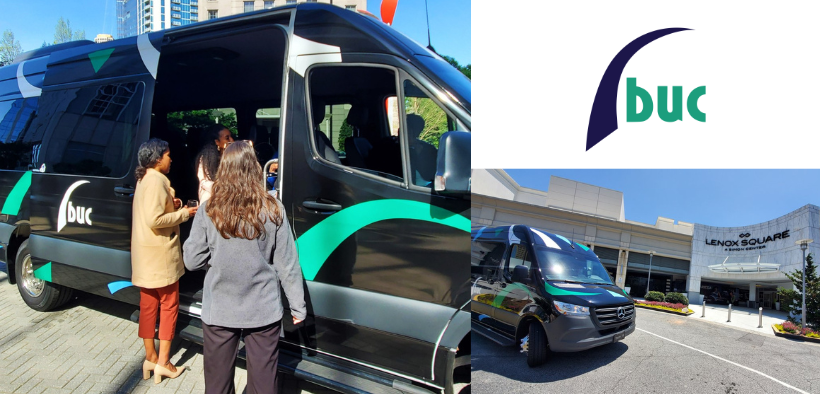 The Buc's first year has been successful, filling an important gap in local transportation options, building a growing ridership base and offering local businesses new opportunities to promote themselves and bring customers through their doors. The number of trips taken on the Buc has increased by an average of 34% each month since its launch, and the service sets new ride records nearly every week. Recent weeks have also seen strong growth in the number of people setting up Buc accounts in the app and activating their accounts by taking a trip on the Buc. Momentum is on our side, and we are adding to our ridership base every day.
"In a dense area like this, I think a microtransit service like the Buc is so beneficial. You can get to so many places and it's affordable as well." — Ian Samuels, a rider of the Buc
One of the somewhat surprising developments of the Buc's first year on the road is its popularity among Buckhead residents. Three multi-family residential locations made the top 10 list of pick-up points in the Buc's first six months. That strong demand as well as interest from additional residential areas prompted us to expand the Buc's service area in January to include Buckhead Forest and parts of North Buckhead. While Atlanta is still a car-dominant city, more people are choosing to live here without a personal vehicle and the Buc helps make that possible. We recently talked with Ian Samuels, a senior at Georgia State University who is a regular Buc rider and lives car-free in Atlanta. "In a dense area like this, I think a microtransit service like the Buc is so beneficial. You can get to so many places and it's affordable as well. I like that the Buc shuttle gives you door-to-door service. I can leave Buckhead station and be taken directly where I need to go without waiting on the bus." Local businesses are benefiting from the Buc as well, introducing it to their employees as a commute alternative and promoting it to customers as a more cost-effective option than ridesharing services such as Uber or Lyft. Retail destinations including Phipps Plaza, Buckhead Village, Buckhead Market and Lenox Square are among the Buc's top 10 drop-off points. The Buc is also contributing to transportation equity and environmental sustainability in Buckhead. Many people working hourly wage jobs commute by transit and have come to rely on the Buc's free first and last-mile connections to Buckhead MARTA stations. Thanks to the Buc, CO2 emissions have been reduced by up to five tons – roughly the same positive air quality impact as 114 acres of deciduous forest.
The Buc is funded by the
Buckhead Community Improvement District
, managed by
Livable Buckhead
,
and operated by
Via
. For more information, visit
www.bucride.org
.